Dr. William Slaymaker
Dr. William Slaymaker was born and raised in Newtown Square, Pennsylvania and currently resides in Germantown. Dr. Slaymaker graduated from the University of Virginia in 1982 where he majored in biology and minored in art. He then attended the University of Pennsylvania School of Veterinary Medicine and earned his VMD in 1987. Dr. Slaymaker practiced in the Harrisburg area from 1987 - 1997 and joined Mt Airy in 1997. He has owned the practice since 1999. Dr Slaymaker is a member of the American Animal Hospital Association, American Veterinary Medical Association, and Pennsylvania Veterinary Medical Association. He enjoys sailing and in 2008 sailed his boat from Cape Cod to the Caribbean.
Dr. Crystal Lauderdale
Dr. Crystal Lauderdale attended Spring Garden College and majored in biochemical technologies. She then attended the University of Pennsylvania School of Veterinary Medicine and earned her VMD in 1993. Dr. Lauderdale has been with Mt. Airy since 1984 and began practicing medicine here soon after her graduation. She currently teaches pharmacology and anesthesiology at Manor College and is a member of American Animal Hospital Association. Dr. Lauderdale enjoys teaching, painting and spending quality time with her family. She also enjoys visiting local schools to encourage students to pursue careers in science and veterinary medicine.
Dr. Andrea Niggemeier
Dr. Andrea Niggemeier received her veterinary degree from the Free University of Berlin, Germany, in 1994. She completed a fellowship in transfusion medicine at the University of Pennsylvania, spent a year at an emergency facility and then joined private practice. After practicing at the Old Marple Veterinary Hospital in Springfield, Pennsylvania for ten years, she began practicing at the Wellington Veterinary Hospital, Newtown Square, Pennsylvania in 2009. She is VetStem certified and a member of the AVMA. While she enjoys all aspects of being a general practitioner, her special interests are orthopedic surgery, physical therapy and sports medicine. She lives with her daughter, her dog Tegla and cat Grace in Philadelphia, Pennsylvania. Her passions outside of veterinary medicine are running, hiking and camping.
Dr. Brian Orr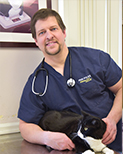 Growing up on a small cattle farm in rural, Western Pennsylvania, Dr. Brian Orr developed a passion for science which led him to graduate from The Pennsylvania State University with honors, acquiring a Bachelor of Science degree in Animal Bioscience. Dedicated to the field, he went on to obtain his Doctorate of Veterinary Medicine from the University of Pennsylvania School of Veterinary Medicine in 2005. "Being an advocate for those without a voice, and caring for my patients if they were my own" is what Dr. Orr finds most satisfying about being a Veterinarian. "I have experience performing emergency services, which allows me to make a quick and well-rounded approach to difficult and urgent cases. I am driven to keep Philadelphia pets safe and healthy!" Dr. Orr has special interest in internal medicine and soft tissue surgery. Dr. Orr currently resides in Lower Merion with his family, which includes Arrow, a beautiful tuxedo cat. He enjoys hiking, fishing, back-yard birding, and almost anything involving nature.
Hakim Franklin
Hakim is a Mt. Airy native. He began working for the practice in 1991 as a kennel assistant. Since that time he has worked in every position except veterinarian and became Hospital Administrator in 2004. As Hospital Administrator, Hakim is responsible for the day-to-day practice management decisions. He is currently a member of the Pennsylvania Veterinary Medical Association, American Animal Hospital Association, Veterinary Hospital Managers Association and Veterinary Managers of Pennsylvania. When not at work, Hakim can be found spending time with his family, traveling and fishing.
Technicians
Our Certified Veterinary Technicians and Veterinary Assistants, have an average of fifteen years' experience and either a two- or four-year college degree from an AVMA approved program of Veterinary Technology. In addition to practicing their skills daily, our technicians sharpen their abilities and knowledge by attending continuing education and seminars on a regular basis. They truly dedicate themselves to aiding animals and society by providing excellent care and services for our patients and clients.
Receptionists
Our highly trained reception staff, handle the volume of our busy veterinary office. They strive to give exceptional customer service and go above and beyond to achieve that goal. The receptionists greet pets and clients while answering multiple phones lines and checking clients in and out of appointments. Our receptionists maintain a warm, calm and professional attitude while acting as a liaison, always putting you and your pet first.
Kennel Assistants
Our Kennel Assistants have the important task of helping every pet here to feel comfortable and secure. Kennel Assistants provide compassionate, quality day-to-day care for our patients and boarders. Their responsibilities include bathing, feeding, exercising and monitoring the well being of the patients as well as assisting the doctors and technicians in procedures.